Structural Insulated Panels



Reprinted From The Long Islander Newspaper

Strength - Energy Efficiency - Less Waste - Uses Less Lumber- A Solution for todays energy Conscious Homeowner


Article by Mike Sloggatt





Huntington NY Traditional Building ----- 21st Century Materials Home renovations have been going on for centuries, traditional methods for construction have changed over the centuries, But not as radically as this home in Huntington Bay. Typical Residential Construction on the East Coast has been some form stick frame since the Mayflower Landed. Variations of Materiel and Methods have changed slowly as manufacturing and Mills began to mass produce building materials.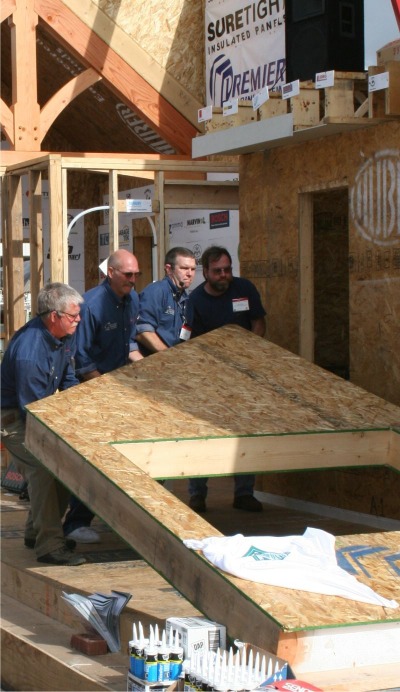 Two by fours used to measure 2" x 4", but now the standard is 1.5" x 3.5". Plywood replaced slats of wood, and Wallboard was rapidly substituted for Plaster. The modern materials sped up the construction process, and built strong homes. Fast forward a few years, when the cost of energy began to rise, Insulation became more popular. Originally rock wool, now Fiberglass has taken the place of empty wall cavities. With the price of Oil rising to almost 3.00 per gallon, the cost of heating a home has increased exponentially.What is the Solution? New building materials are quickly addressing the needs of Energy efficiency and green building. As the 21st Century approached, new technology allowed for advanced methods of building. This home currently under construction in Huntington Bay is taking full advantage of this Technology. SIPS, Structural Insulated Panels are structural panels made from Oriented Strand Board ply wood (OSB) Expanded Poly Styrene ( EPS) foam . Traditional methods of wall and roof framing are cast off for manufactured panels. The lumber conventionally used to build walls is replaced with EPS foam that is bonded between two structural layers of OSB. The panels are stronger than frame construction and have very high insulating and sound deadening values. Instead of ordering a stack of Lumber, this home was designed on a computer and the specifications sent off to a SIP manufacturing facility. The manufacturer using advanced Computer guided cutting machines, fabricated every square foot of exterior floor, wall and roof structure. Within a few weeks of the initial order, tractor trailers delivered the home a section at a time.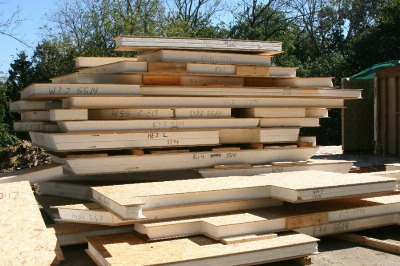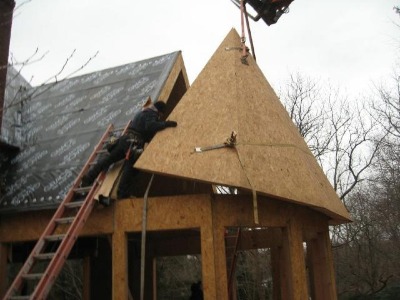 Four trucks for this 4300 sf home were needed. First up were the walls, Light weight in comparison to traditional framing, with all of the door and window openings cut at the factory , there is no jobsite waste of materiel. The second floor is integrated into the structure as the walls are erected. Since there is little onsite wall framing needed, the labor savings offset the additional cost of the high performance materiel. Eliminated also is the labor intensive requirement for Hurricane Strapping due to the high strength of the panels and fastening system. Perhaps the most challenging aspect of this building is the Country French design. The Country French often has very steep rooflines, with graceful curves at the edge of the roof line. Although most SIPS projects are simpler in design, this home has 8 curved dormers, and the traditional steep roof angles. Framing a job of this design is a challenge on its own, however the SIP panels and the precision fit allowed the roof to be assembled in sections on the ground, and lifted into place by crane or forklift. The entire assembly is than screwed together with specialized panel screws. Even the dormer sections were preassembled and lifted into place. The advantage to this construction is a building system that is very strong, predictable, energy efficient, as well as cost effective. The building is so efficient when completed that the heating and cooling systems are reduced in size, some designs with as much as 50-70% energy reduction, requiring much less energy to heat and cool. This translates to reduced Emissions of Carbon Dioxide for each structure built. The use of SIPS, reduces air leakage from the outside to such a degree that mechanical ventilation with the outside is necessary. Using heat exchangers, the interior air is exchanged with outside air on a regular basis to provide fresh air, and remove excess levels of humidity. For those that suffer from allergies, this allows greater control over the indoor air quality since all incoming air can be filtered for allergens and air-conditioning is much more effective in controlling the humidity levels of the home environment. Traditional Framing lumber is very high in moisture content, This moisture when sealed in a wall cavity can cause mold growth, Factory assembled and dried, the panels eliminate this issue. Building with new technology is often slow to catch on. As builders and Carpenters, we're sometimes slow to accept change, especially when it is so radically different from what we have been doing for years. Change is often forced upon us by environmental influences, availability of materials and the skill available to construct. As homeowners, very few are willing to climb out onto a limb to embrace new technology. The good thing is , that SIPS are not new, Frank Lloyd Wright used a form of SIPS in the 1930's & 40's. The first foam Core Sip was developed by Alden Dow in 1952. And since the advent of Computer Aided Design in the Early 90's, it became feasible to use sips in production building. This is hardly new technology. I guess we're all just slow to change. I suppose with all of the real good things we can say about SIP construction, there are probably some drawbacks that should be mentioned. For those that like to change their mind often during construction, modification of the design last minute is going to be more expensive , or sometimes close to impossible. SO it's real important to make up your mind before ordering the project. Window selections need to be made in advance and change is difficult. Many contractors have never worked with the SIP system, and should be trained in its application prior to taking on a job. I've heard that another drawback is on rainy days, you might venture outside not even realizing it's pouring rain out. The roof panels are so insulated, that you can't hear the rain on the roof anymore, Mike Sloggatt We are currently creating content for this section. In order to be able to keep up with our high standards of service, we need a little more time. Please stop by again. Thank you for your interest!

| | |
| --- | --- |
| | |
| | |